Side note: This is not an ad, and there are no affiliate links. Just a show case of my current EDC kit for professional and private use.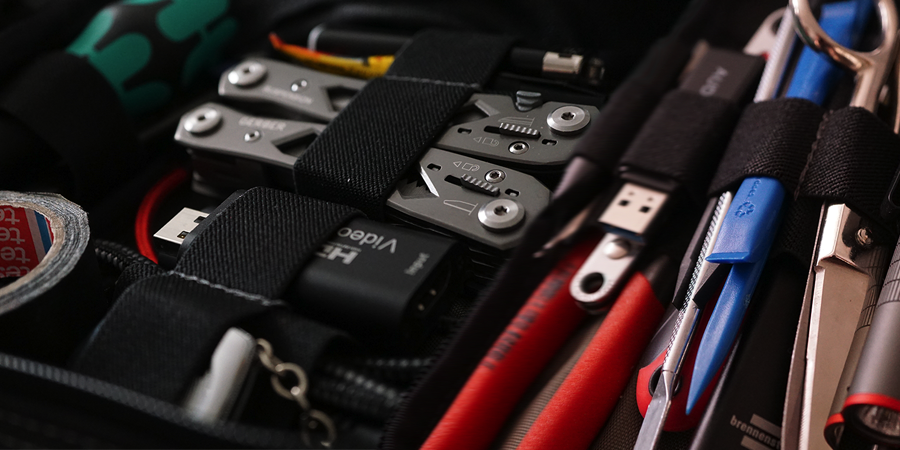 What is an EDC kit?
EDC stands for 'Every Day Carry'. It is - as the name implies - a kit that you bring with you every day. As someone who likes to watch EDC kit show cases or read blog posts about EDCs, there is an unlimited range of use cases, tools, sizes, combinations, and so on. I recently bought a new bag and switched out various tools, so I thought it would be a great timing to show you the status quo.
For me personally, I like to be prepared. If I have the right tool with me, it will save me time and headaches. I am a Network Administrator for a living, and especially at work, it is a sign of professionalism to have certain tools at hand, and get the job done quickly. I have to carry more weight around, and some tools are rarely used, but it is worth it. I like to compare my EDC kit with others, I like to do research on new tools, and I like to use my tools!
I most often use my kit at work. As mentioned before - I am working as a Network Administrator. Installing and working on switches / servers, UPS, server racks, and sometimes even those machines from hell - printers.
As a side note: there is not 'the perfect EDC kit'. Times changes, tools are getting replaced, new situations come up, and it is impossible to have a tool for every (!) situation.
General information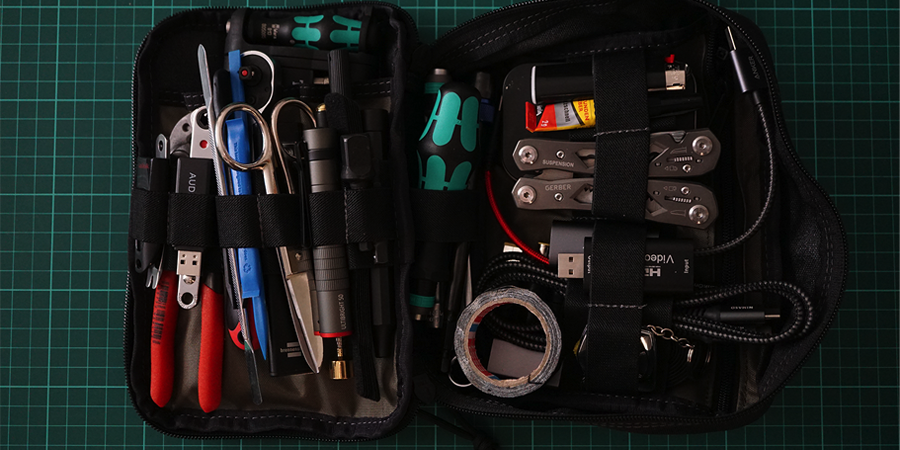 The bag is the Maxpedition BEEFY Pocket Organizer.
Fully packed:
Lenghts: 21 cm Width: 16 cm Heights: 14 cm
Weights: 2,5 kg
It is as clunky as it looks, but it fits perfectly into my 2 bags.
Categories
I don't think it is necessary to show every tool separately, so I've categorised them. I've added some notes, but most should be self-explanatory.
Building / dismantling
I split this category into two parts, since it is different to work on a server rack or a smartphone.
Heavy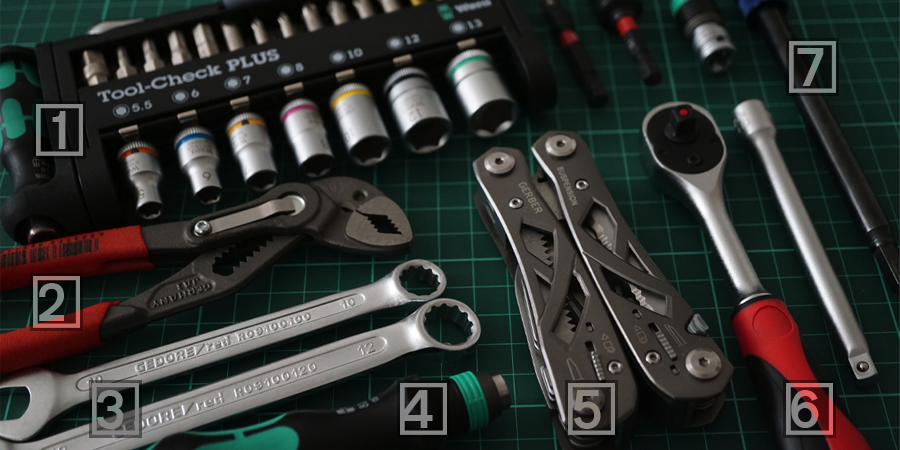 bits and socket set (Wera Tool-Checks Plus)
pliers (Knipex Cobra 87 01 150)
wrenchs - size 10 and 12, I might add size 8 at some point
screwdriver handle for bits (Wera 05051462001)
Multitool (Gerber Suspension)
decent 1/4-inch square ratchet - the Wera set got a small ratchet, but I destroyed at least 3 already
various 1/4-inch square/hexagon adapters and extension (Milwaukee, Wera, Bosch)
Fine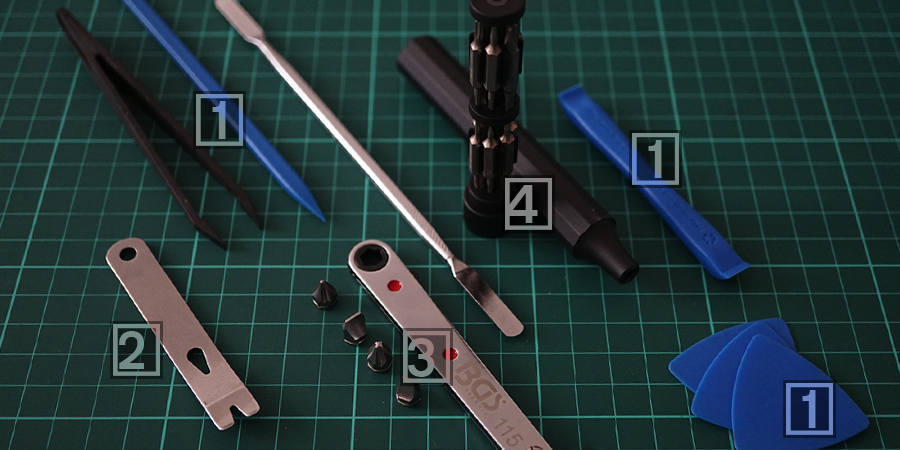 various plastic tools
mini crowbar
thin ratchet wrench - a recent addition. Would have been helpful in the past. Has extra short bits, but works with normal bits too
precision screwdriver set (HOTO)
Connecting things
Network
7,5m RJ45 network cable - it is clipped to the bag
spare 1m RJ45 network cable - just in case
USB-to-RJ45 adapter - there are multiple use cases for it: connecting to an additional device, troubleshooting a different network route, and as a spare part (just let your laptop drop while the RJ45 cable is plugged in)
USB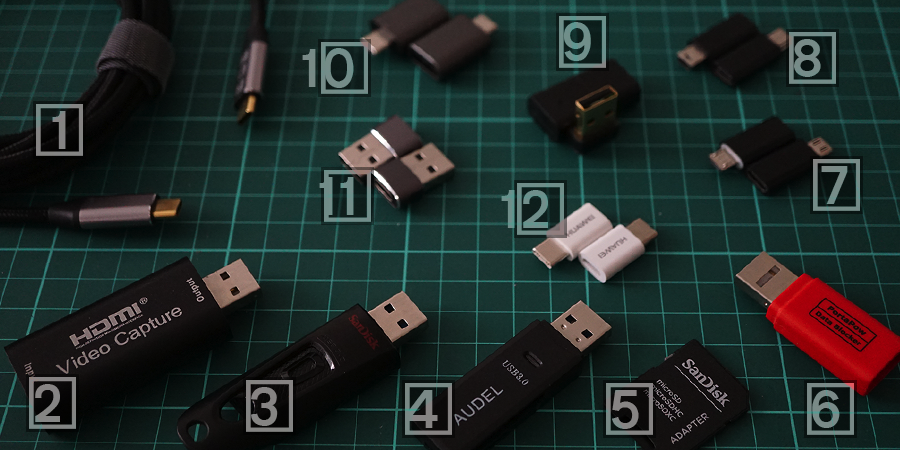 Welcome to dongle hell! My idea is to have 1 long cable, and adapters for every situations since a bunch of cables have a certain volume. I have had no problems with this solution, yet.
3m USB Type-C/Type-C cable - clipped to the bag
USB HDMI capture card - Troubleshooting session / server etc
spare 32GB USB stick - I lose 1 per month
SD- and micro-SD USB adapter
micro-SD-to-SD adapter
charging USB protection - not sure how those are called, but they prevent data transfers, so I can charge my devices securely at unknown USB sockets
female USB Type-C to male micro-USB adapter
female USB Type-C to male mini-USB adapter - jep, MINI USB, and yeah, I use them fairly often. Cisco switches uses mini-USB for console interfaces on the front.
2 spare USB wireless cards - same as the USB to RJ45 adapter, but with more driver problems
female standard A USB to male USB Type-C adapter - USB Type-C-only devices are way to common
female USB Type-C to male standard A USB adapter
female micro-USB to female USB Type-C adapter
Forgot the 1m USB Type-C to Type-C cable. Too lazy to re-shoot. Sue me.
Fixating - keeping things together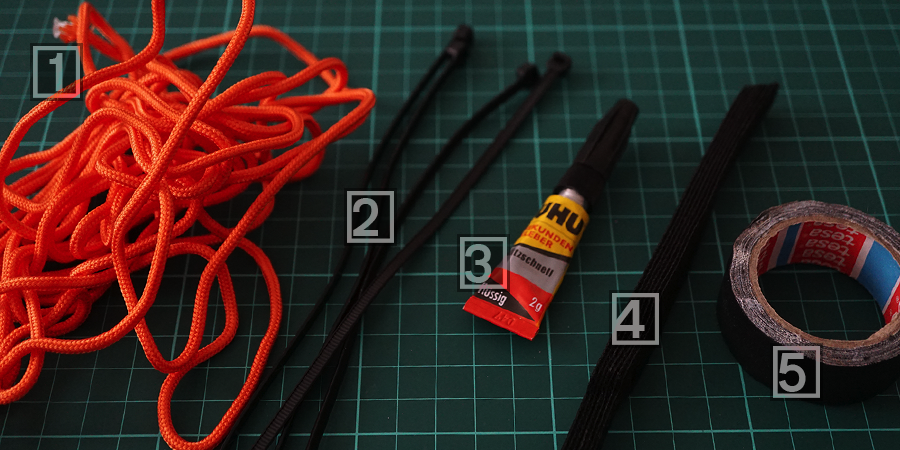 around 5m of paracord
zip ties
superglue
velcro cable ties
duct tape
Light - Let there be light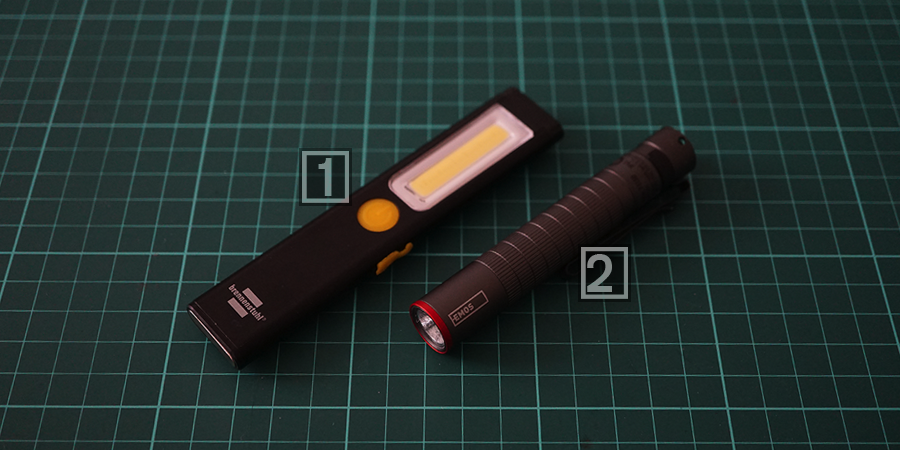 Brennenstuhl LED torch PL200
EMOS Ultimate 50 flashlight
Seems redundant, but they have their own use cases. The magnet on the torch is great!
Misc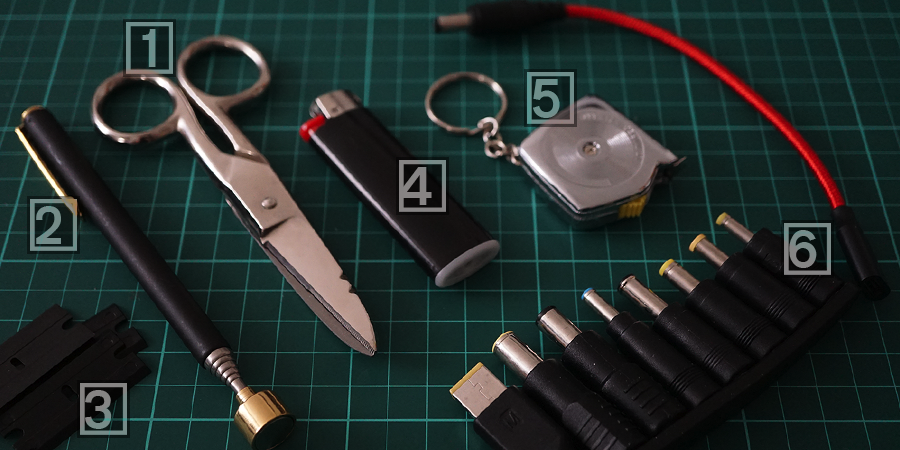 snip (Klein) - great to for stripping cables
telescope magnet - this is a recent addition. The last screw recovery took way too long without it
plastic razor blades - if you have to scrap something off a sensitive surface (stickers, glue, etc)
lighter
1m mini measuring tape (Stanley)
female USB Type-C to various DC connector adapter
And the gloves in the front. I am a fan of mechanixx gloves, and this pair is great. Thin enough to enjoy precise work, and protective enough against evil cut cable tie ends.
Spares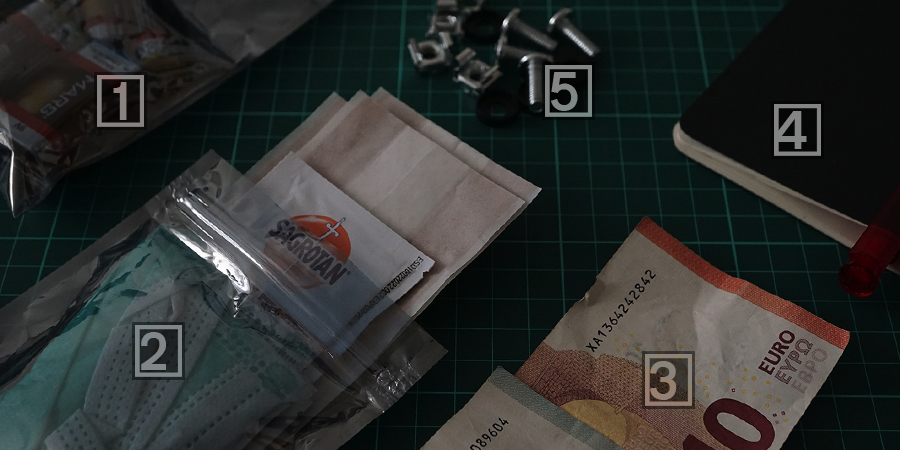 various types of batteries
spare mask, disinfection wipes, plaster
cash
small notebook
spare cage nuts - nothing is more annoying than forgetting cage nuts, nothing
Conclusion
So, this is it. All in all, I am pretty happy with my current EDC kit, and I won't change much any time soon - at least that is what I am telling myself.
You have tips, tool suggestions, or questions? - Feel free to reach out!
---
E-Mail
hello @itta vern. com
Twitter
ITTavernCom
Fediverse
ITTavern
Lemmy
infosec.pub/c/ittavern
---
More reading: